Briyani Recipes
In this particular article, we have discussed the biryani recipes. The Maackitchen always brings the best kitchen appliances for you. In this article, you will learn the best biryani recipes for different tastes. The biryani recipe is the most necessary for every person. So ready to learn the best recipes:
List of Best Biryani Recipes
1. Zafrani Kofta Biryani Recipe
Ingredients 
Minced meat half kg
saffron as desired
Eggs 8 to 10
Rice 3 bowls
Salt as per taste
Ginger garlic crushed 1 tablespoon
Onion 2 to 3 medium
Tomatoes 3 medium
Yogurt 1/2 cup
Red pepper 1 tablespoon
Coriander 1 tablespoon teaspoon
hot spices ground one teaspoon
ground green chilies one teaspoon
gram flour half a cup
milk half a cup
cooking oil as required
Step By Step Instruction
Boil the eggs and take out their yolks from the middle and keep them aside.
Add the whites of four boiled eggs, a teaspoon of ginger, garlic, green chilies, roasted cumin seeds, salt, and roasted gram flour and grind them.
Palm Wet it slightly and put the mincemeat on it and make small koftas and close each kofta by putting egg yolk in the middle.
After soaking the rice for fifteen to twenty minutes, boil it and filter it.
Fry the onion until golden brown in cooking oil, then add ginger, garlic, salt, red pepper, and coriander and fry while sprinkling water.
Add chopped tomatoes and cover. And when the ghee separates, add half a cup of water and prepared kofta in it.
After three to four minutes, when the color of the koftas starts to change, add boiled rice on it and boil the saffron in milk, and put it on it.
Finally, sprinkle the ground hot spices and keep them on low flame.
2. Easy Chicken Biryani Recipe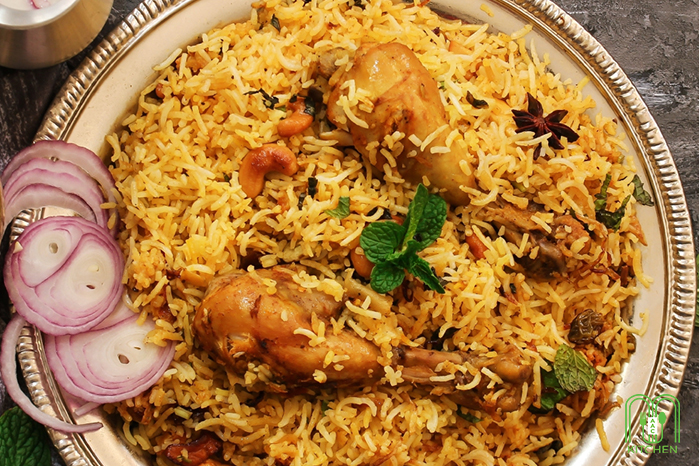 Ingredients 
Chicken meat 1/2 1 kg
Garlic-ginger paste 2 tablespoons
Tomatoes (chopped) 3
Onions (cut into slices) 2 pcs
Curd 1 cup
Potatoes boiled 4-5 pcs
Biryani spices 2 tablespoons
Rice (Bhagudan) 3 cups
Fried onions As required
Proven hot spices 1 tablespoon
Green chilies 2 pcs
Mint 1/2 bunch (separate the leaves)
Coriander (chopped) 1/2 bunch
Yolk color 1/4 teaspoon (dissolve in milk)
Biryani Essence Chand Drops
Ghee cups 1
Salt to taste
Step By Step Instruction
Heat ghee in a pan.
Add onion and fry for 3-4 minutes.
Add meat and garlic-ginger paste and fry for 5 minutes.
Add 41 cups of water and cover the lid and cook until the meat is cooked and the water dries up.
Add all the chilies, salt, and hot spices to the rice and boil it until it remains a little.
Sift and separate the rice.
Put half of the rice in a large pan.
Add the prepared meat mixture to it.
Add half the amount of fried onion, coriander, and mint and add the remaining rice and add the remaining fried onion, coriander and mint, sprinkle the yolks and biryani essence, and apply it to the tail.
The delicious chicken biryani is ready, take it out in a serving dish and serve it hot.
3. Tikka Biryani Recipe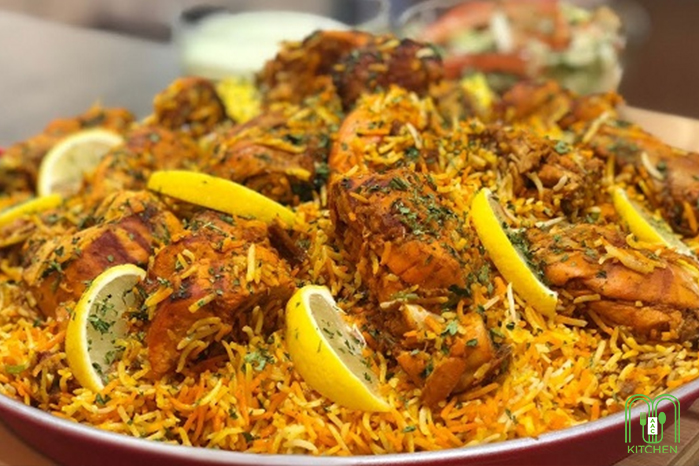 Ingredients 
Chicken meat half a kilogram (boneless)
Rice half a kilogram (beans)
Light green tomatoes four nos
Red chilies one teaspoon
Garlic ginger paste one teaspoon
Cream one cup
Green cardamom four pieces
Yolk color quarter teaspoon
Curry powder one teaspoon
Mint one bunch
Oil half a cup
Yogurt one cup
Butter one-sixth nick
Coal one piece
Step By Step Instruction
Put the meat in a pot.
Now add salt, curd, cream, chopped black pepper, cumin, red pepper, cardamom, and garlic ginger paste.
Mix all the ingredients well and keep it for half an hour.
Heat oil in a frying pan and add chopped tomatoes and fry well. 5. When tomatoes become soft, add chicken and fry well.
Heat butter in a separate pot and add ground green chilies, salt and Add the rice and fry for five minutes, then cover for another five minutes, until the rice is well cooked.
Now add the meat to it.
Add mint, curry powder, and yolk color on top and put it on the tail.
Finally, add coal.
The delicious malai taka biryani is ready.
Serve with raita.
4. Chicken KUWAITI BIRYANI Recipe
Ingredients 
Chicken (boneless boti) 1/2 kg
Curd 1/4 cup
Red chili powder to taste
Salts to taste
Hot spice powder 1/2 teaspoon
Turmeric powder 1/4 teaspoon
Ginger 1-inch piece
Garlic paste 1 teaspoon
Saffron essence few
Drops butter 1 tablespoon
Onion (chopped)
Tomatoes (sliced) 2
Chicken cubes 1
Oil as required
Step By Step Instruction
Heat oil in a saucepan, add butter and spoon it.
Fry onion, garlic, ginger, chicken, tomato, turmeric powder, hot spice powder, curd, and salt and fry it.
Put half of the boiled rice in the pot.
The chicken mixture, then mix the yolk color in rice, and saffron essence, and sprinkle it on the tail.
5. SAJJI BIRYANI Recipe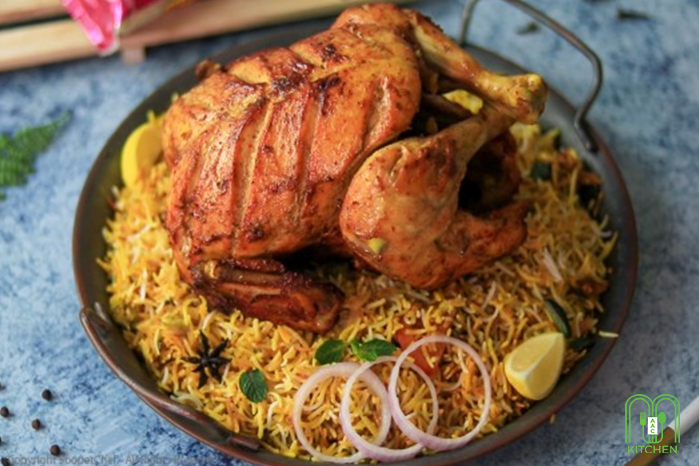 Ingredients 
Chicken (including skin) 1 to 2 kg
Rice 3 cups
Salt to taste
Ginger garlic paste two tablespoons
Red chilies four to six pieces
Chaat masala one tablespoon
Lemon juice four tablespoons
Vinegar two tablespoons
Cooking oil As required
Step By Step Instruction
Wash and dry the chicken, add ginger, garlic, salt, lemon juice, and vinegar to three to four cups of water in a pan and put the chicken in it, and keep it covered (it is better to leave it overnight) Take out the chicken and keep this water safe.
Then heat a tablespoon of cooking oil in a wide pan and fry the chicken in it on medium heat for eight to ten minutes. Let the dogs go. Then, with the help of two spoons, carefully flip it over and fry it until golden on the other side as well.
Then in the same pan, grate the red chilies in two tablespoons of cooking oil and fry the soaked rice in it. Add the water reserved for the chicken and mix well and cook on medium heat.
When the water becomes dry, add chicken pieces to it and keep it on low flame for ten to twelve minutes.
6. Chicken Biryani Recipe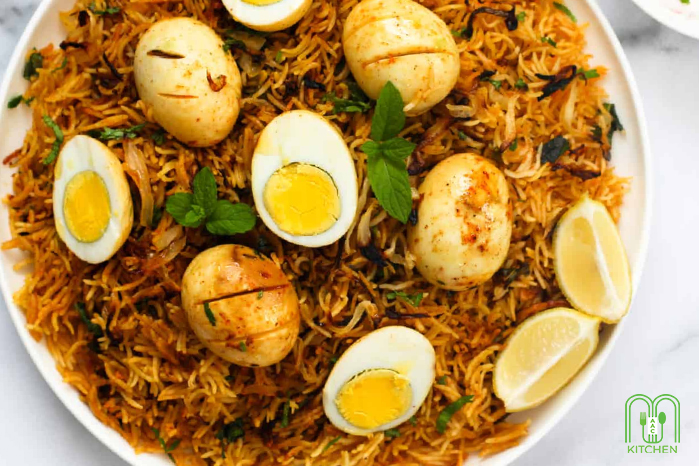 Ingredients 
1 kg of chicken
Rice 3 bowls
Tomatoes two pieces
Onions 2 pieces
Garlic paste one tablespoon
Salts to taste
Red pepper one tablespoon
Hot spices half a tablespoon
Ginger paste one tablespoon
Curd four tablespoons
Oil as needed
Cumin One Teaspoon
Yolks as per taste
Step By Step Instruction
Soak 13 cups of rice for half an hour.
Then add oil to a pan and fry the onion till it turns brown.
Now add garlic ginger paste, salt, red pepper, hot spices, curd, and tomato, and add chicken. Add and fry.
When the chicken is cooked, remove it from the stove, then add salt and cumin to the water and boil the rice and then layer the meat.
Now dissolve the yolk in water and sprinkle it on the rice.
Then add mint leaves and add it. Serve the delicious hot chicken biryani with raisins and salad.