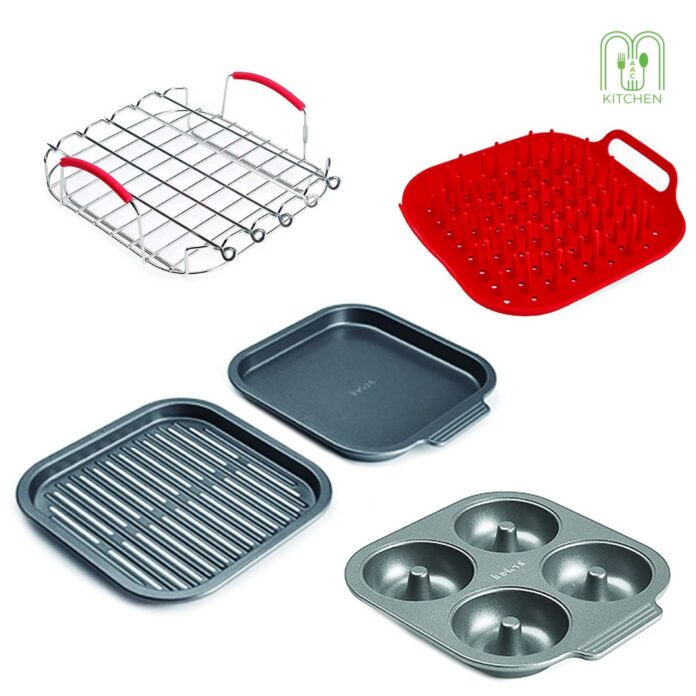 Introduction
In this particular article, we will discuss the Non-stick Bakeware set. Bakeware is one of the best marketing places for the baking set. Also, the Maac kitchen provides the best marking place where you might need for baking, with A to Z inventory-related products. The Maac kitchen is an online store that sells all the products of kitchen supplies, kitchen storage, and kitchen fixers, so if you are searching for the best product of Bakeware, you are at the right place.
The Best Non-Stick bakeware and Baking Pans are here:
MasterClass Smart Space Non-Stick Stackable Bakeware Set
The non-stick presents the best MasterClass Smart Space Bakeware set. It is a collection of 7 piece bakeware sets. All the pieces are made of carbon steel. It has a roasting pan, square cake tin, loaf tin, and muffin tin. Also, it has two baking trays, a cooling, and a gift box. Also, it is a coating for easy release of baked goods and even simpler cleanup. The roaster includes a broad pouring lip to drain juices and unwanted fat, and the tins have extended front handles for convenient transporting.
Pros
Perfect for every baking
Dishwasher safe
Non-stackable coating
A very nice and well-made set
Cons
Granitestone Blue Nonstick Pots and Pans Set
The Garnitestone Stone Diamond Presents Blue Nonstick Pots and Pans Set. It is made of aluminum. Also, it is a collection of 15-piece cookware and bakeware sets. It includes everything you need for the kitchen. Also, it has a frying pan, saucepan, streamer, cookie sheets, muffin tin, loaf pan, roll pan, and baking pans. The granite stone has three coated nonstick surfaces. This bakeware set is very easy to use. Also, the pan's coating is laced with diamonds, the world's most rigid thing, making it resistant to metal utensils, spatulas, spoons, whisks, and even electric beaters while providing years of great nonstick performance.
Pros
Three-layer coating
Very well set of all pots and pans
Easy to clean
Great non-stick set
Cons
The bottom is not close to flat

Bakeware Set, Kook, Ceramic Baking Dish
The Kook presents the Best Ceramic Baking Dish and Bakeware set. It is a set of 3 casserole dishes for cooking. These rectangular baking dishes are perfect for baking pizza, pasta, and bread. It is also used to serve roast vegetables, chicken, and food storage. Also, it meets your different needs. It comes with three different sizes of dishes. After using, the dishes can be nested to save space. It is very easy to clean. Also, use hand wash and soap to clean the dishes.
Pros
Three dishes in one set
Also, using for serving
Dishwasher safe
Easy to use
Cons

Circulon Nonstick Bakeware Set with Nonstick Bread Pan
The Circulon presents the Nonstick Bakeware set with a Nonstick Bread pan. It is a collection of baking pans, cookie sheets, and cake pans. It is made of Alloy steel. Also, it has a nonstick-coated surface with raised circles for excellent nonstick performance. It is very easy to use, clean up and improve food release. This great nonstick bakeware complements other Circulon cookware and kitchenware and comes with a hassle-free Lifetime Guarantee.
Pros
Fantastic Quality
Dishwasher safe
Lifetime guarantee
Easy to use
Cons